Regardless of whether capturing with your mobile phone or some other camera, here are the most important guidelines for capturing for Mapillary. (Check out our extra tips for walking, cycling or driving as well.)
The main point when capturing is to

keep on moving

and to try and

hold the camera itself still

.

Mapillary supports

images in landscape orientation

. Adjust the

camera to be level with the horizon

(the Mapillary apps have tilt lines on the camera screen to help with that).

Normally you

aim the camera towards the direction of movement

, where the road in front of you meets the horizon.

The ideal environment for a Mapillary sequence is to have the

sun behind you

,

minimal traffic

and

fewer people about

.

Take

many images in one sequence

(at least 10, but more is better) and in

close proximity to each other

(5 m is ideal).
We use a computer vision technology called Structure from Motion (SfM) to create an immersive experience when you're viewing the sequences. SfM works based on overlapping points between different images. If you follow the above tips, your images will have enough overlap and you will end up with seeing something like this.
Here is how to capture different objects.
Streets and roads.

When you want to cover a street, make sure the camera is pointed in the direction of the street. If you have time, first cover one direction and then the other. When that is done, you can orientate the camera left or right to the direction of travel.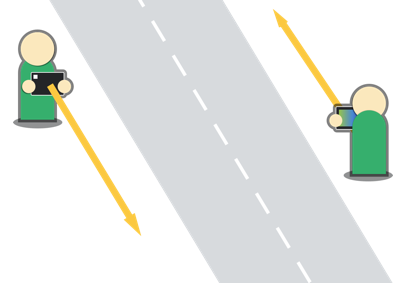 Corners.

When walking around corners, it is best to take more images with lots of overlap to create smoother transitions. Selecting manual mode or adjusting the frequency of automatic capture can help achieve this.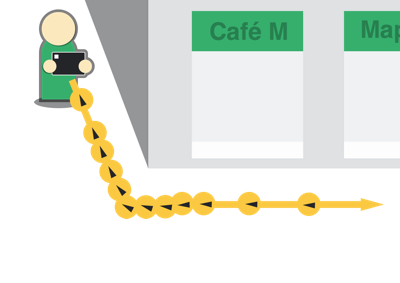 Facades.

To capture facades, point the camera to the left or right towards the direction of travel. This works best when the street is wide enough so that large parts of the facades are visible, and you are moving slowly. For the best viewing results, you should aim to have even 50% overlap between the images.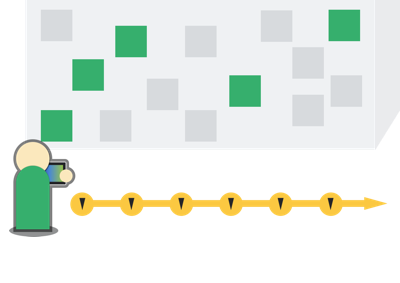 Interesting places.

For interesting locations, you can consider using the automatic mode as if you were taking a panorama. The distance-based auto mode (default in the app) reacts to location change as well as compass angle change, so you just need to turn around slowly and take images with enough overlap, which provides a nice viewing experience. This is a particularly useful way to capture street intersections, but also for spectacular views.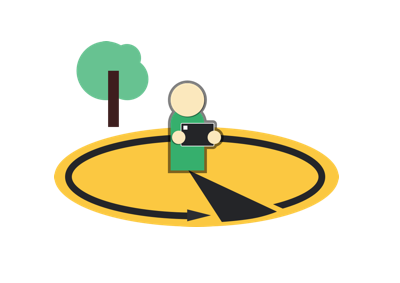 Objects.

To capture a single focal point such as a statue or a small structure, orbit around it taking pictures at different angles. (In some cases, manual capture mode might be more suitable for this than automatic.)