GoPro Max is the best 360° camera to use with Mapillary. Imagery from other cameras works on our platform, but the Max has proven to offer the most value and be the best camera for the price. GoPro Max supports 2 seconds time-lapse mode that outputs stitched images which can be uploaded using Mapillary Desktop Uploader and Command Line Tools.
Equipment needed
GoPro MAX

Smartphone with GoPro app

Charging cables

Memory cards

Power bank (battery pack)

Mounting equipment*
Mounting
Charge your GoPro fully before embarking on a capture adventure or carry a power bank if your session will continue for more than 2 hours.

Secure the GoPro MAX camera onto a vehicle suction mount or your vehicle's roof rack system

Place the camera close to the center of the vehicle with the LCD screen facing the back of the car. Adjust the angles of the mounts so that the camera's lenses face the front and back of your vehicle.

Remove objects obstructing camera view (vehicle antenna).

Connect and secure external battery power.
Charge your GoPro fully before embarking on a capture adventure or carry a power bank if your session will continue for more than 2 hours.

We recommend using a selfie stick when walking.

You can either hold the stick in your hand or fasten it to a backpack in a steady, upright position.

Be sure to keep the camera at least 30 cm above your head to minimize interference from your head.
Device setup
Start with formatting the camera's memory card (we suggest you do this before each Mapillary session to ensure you have plenty of storage space for recording).

Make sure your camera battery is charging while you capture images.

Use the following two buttons on the camera to navigate the interface:

Mode button

Hold for two seconds to turn off/on

Shutter button

Press to begin image capture

Enable the following camera settings on the on-camera touch screen: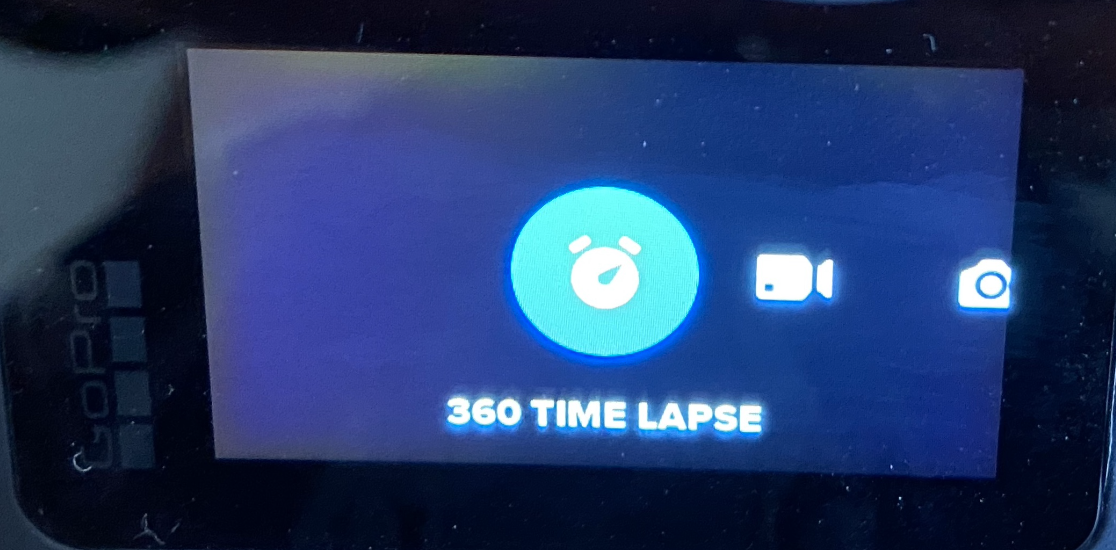 Switch to Time Lapse photo mode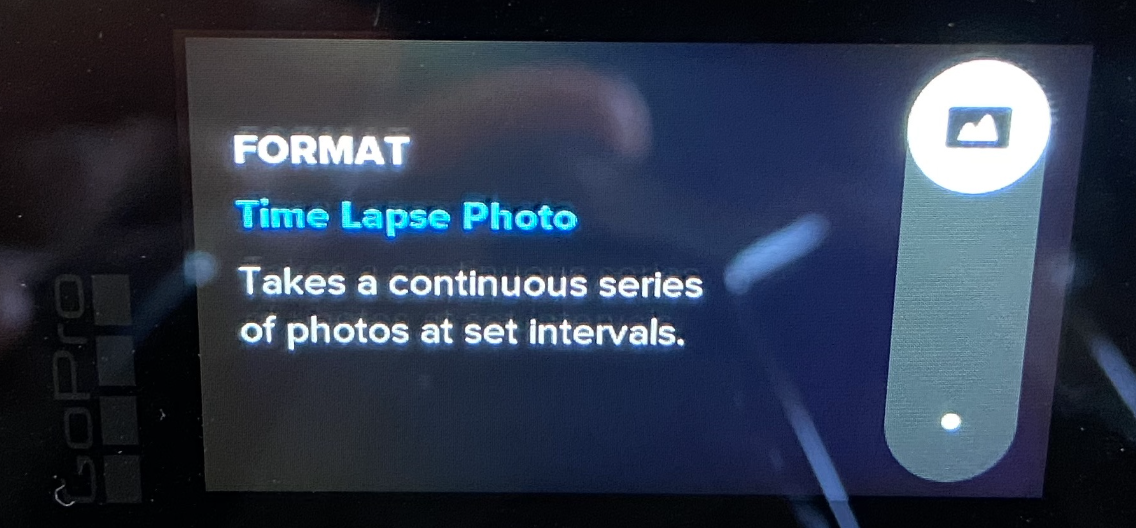 Select

2 second interval on Time Lapse photo mode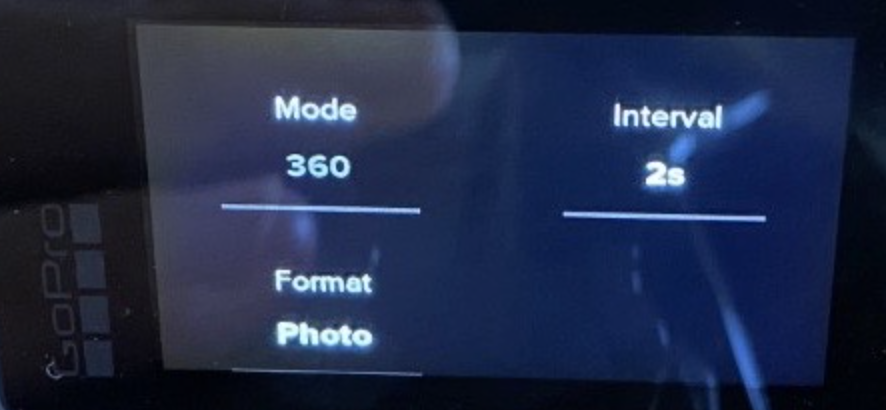 You are all set if you are in this state as it is shown in the below image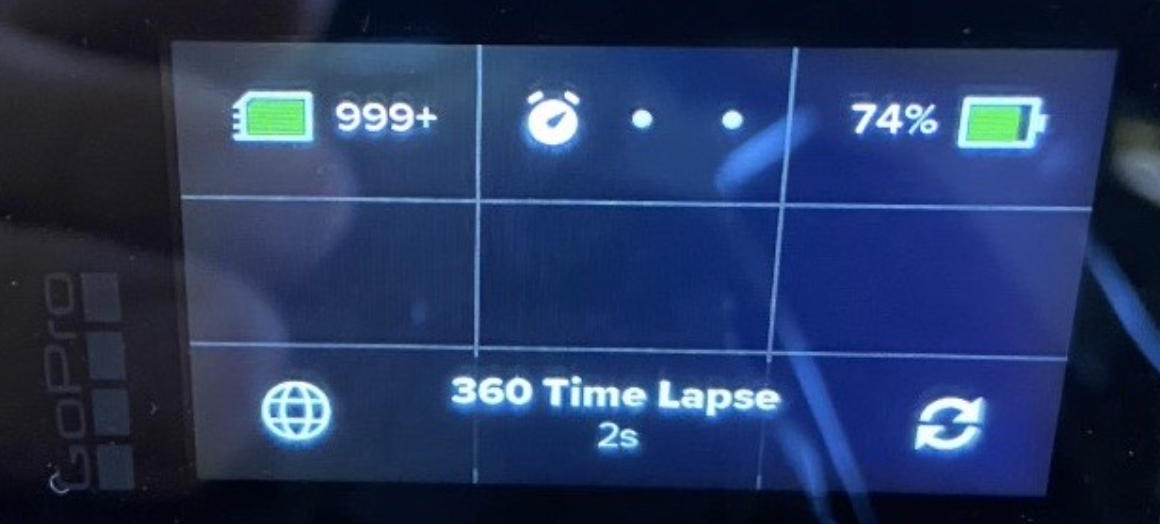 Set your resolution to 5.6k
Capturing
Recommended: The GoPro MAX can be used to capture without the GoPro app, but this limits its functionality therefore you may need to download GoPro app to control image capture,

Connect your device to the GoPro's wifi:

On GoPro navigate to: Settings by swiping down the on the screen

Select Preferences to access GoPro Wireless connection

and choose

Connect→ GoPro App

The screen will display CAM NAME and PASSWORD.

In the app, select the camera icon to add a camera.

Use the GoPro app to make sure the necessary settings are activated, preview the image perspective, and start capturing.

When you feel you have captured enough imagery, stop the capture.
Note:
Best practices for capturing:

Avoid capturing at night and when it is actively raining or snowing.

Avoid capturing too much of your vehicle hood, the sky, and the ground.

Be sure to fully charge your device before capturing and charge it throughout the duration of your capture session.
Upload GoPro MAX camera imagery to Mapillary
Uploading GoPro Max is a simple process as the Max stitches your 360 imagery on the camera.
Use the

Mapillary Desktop Uploader to upload your imagery.
You'll need to sign in with your Mapillary login credentials in the desktop uploader, so if you don't have an account yet, be sure to first create an account.

Drag and drop or browse for a folder that contains your images.

Note:

You can't add individual images, just folders. However, the folders can contain subfolders—the uploader is capable of handling that

.

Click on "Upload" to upload the imagery to Mapillary. It normally takes a few hours to days process, after which you should be able to see your imagery on the Mapillary platform.

For more help with the Desktop Uploader,

see the respective article.
Upload GoPro MAX imagery using other methods
Note. If you have more than 100,000 GoPro MAX images, get in touch with us to get help with uploading larger quantities of imagery.