360° cameras are great for covering all directions simultaneously and really easy to use. You just need to mount or hold the camera steady above your head and keep moving. For getting the best 3D reconstructions after upload, keep the camera at least 30 cm above your head or car roof (a selfie stick can be very useful for this).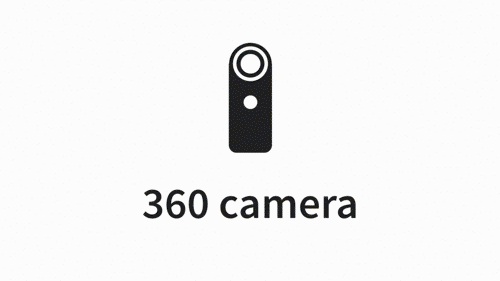 For capturing images with a 360° camera you will use one of the two methods: via the Mapillary app or outside the Mapillary app. The Mapillary integration will enable you to guide the capturing process from the Mapillary app, so it's very similar to capturing with your phone, except you use the external camera's "eye" instead of your mobile phone's. It will also geotag the images for you so that it will be really easy to upload from the app's Upload screen. Right now the integration is available in Mapillary for iOS and is upcoming for Android.
We have support for certain cameras and are working on more. Note that the camera needs to follow the Open Spherical Camera API standard in order for us to be able to develop an integration for it. For cameras that don't have a Mapillary integration, you need to find a way to record GPS information externally to match with the images later. Most cameras have an accompanying app of their own that you use for guiding the capture process.
You should also remember that each camera has its own way to process the images. Some cameras do it as you go, while some will need processing afterward. This affects your workflow when uploading to Mapillary. The images that need to be stitched together afterward by a program are slightly more time-consuming to upload, but due to the labor put into stitching, the quality turns out very good. Therefore you should consider what's important to you when choosing a camera—high-quality images, the ability to take many images, or an easy uploading process.
For Mapillary purposes it's best to capture images in time-lapse mode, not video, because you save a lot on data volume, reviewing and upload time. If you for some reason still need to capture a video, know that it is possible to upload that too, it just takes more resources.
In the table below you'll find a quick overview of some of the 360° cameras that we know about. Click on the name to read more.
| | | | | | |
| --- | --- | --- | --- | --- | --- |
| Name | Price | Time-lapse capture frequency | GPS | Resolution | Mapillary mobile app integration |
| | $199 | 2 s | With app | 15 MP | Mapillary for iOS |
| | $299 | 8 s | With app | 14 MP | Mapillary for iOS |
| | $499 | 1 s | With app | 8 MP | Mapillary for iOS |
| | $350 | 0.5 s | No | 25.9 MP | No |
| | $299 | Video only | No | 1504x1504 | No |
| | $499 | Video only | No | 2880x2880 | No |
| | $449 | 2 s | No | 8 MP | No |
| | $1499 | Video only | Yes | 4096x2048 | No |
| | $1499 | Manual | No | 108 MP | No |