Mapillary feed allows you to view your sequences and their processing status. Every sequence has a tooltip that shows a sequence's state and its status. Mapillary processing states are Image Ingestion, Image Processing, Map Data Processing and Map Update.
Image Ingestion

: In this processing state, your images have been successfully uploaded and the images are going through some initial processing steps, such as extracting basic metadata about the upload, face and license plate blurring, and registering it with the image processing pipeline.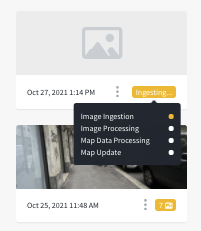 Image Processing

: This is where Mapillary runs all our computer vision algorithms, detecting objects and creating 3D point clouds. Your images will be available on Mapillary's Web App. At this stage you are able to navigate through the sequence and see it on the map.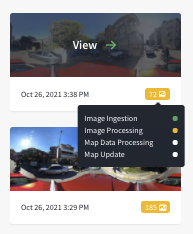 Map Data Processing

: Map features are generated in this processing state, which requires jointly reprocessing all the old and new data in the geographic vicinity of an uploaded image.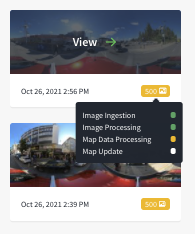 Map Update

: Mapillary coverage tiles become available once this state is completed. All

data from the previous steps is stored in the new tile version.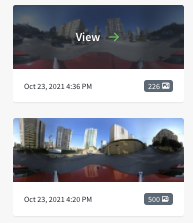 Each processing state has a color coded status indicator.
White: Processing state has not started yet

Orange: Processing state is in progress

Green: Processing state is completed

Red: Processing state is failed