If you are looking to efficiently collect coverage with high-quality imagery, you might want to try out a rig setup with multiple action cameras. This is a good way to imitate 360° capture but with a more reasonable price for the same quality. There are endless possibilities but here are a few examples that we recommend trying out.
One of the setups uses Garmin Virb action cameras, which you can control via the Mapillary mobile app, and cables connected to the car's charging socket for power. The other one uses Sony action cameras, which we don't have an integration for, and battery banks for the power supply. Don't hesitate to mix and match or experiment with alternative setups to better accommodate your needs.
Note that you can also opt for a setup with less than four cameras. For example, you could have just two cameras, one facing forward and one to the side of the street, and drive the same route back and forth to cover all four directions. If you're unlikely to drive the same road/street again any time soon then you might want to opt for forwards and backward view instead (this applies to biking as well).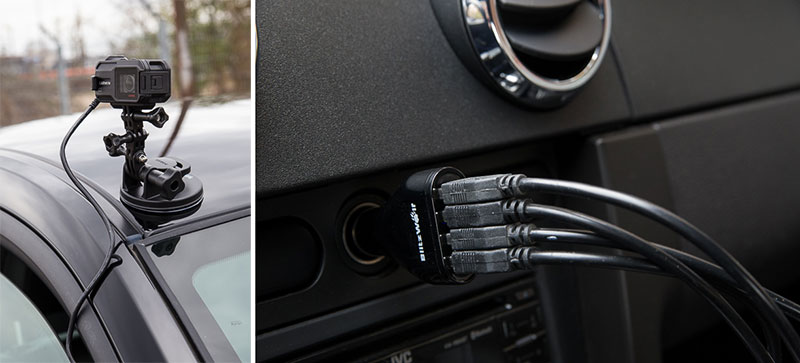 The Garmin Virb is a good choice for Mapillary because it has built-in GPS and an integration with our iOS app. Here is what you need for building a rig.
| | | | |
| --- | --- | --- | --- |
| Qty | Item | Unit Price | Total |
| 4 | | $299 / $399 | $1,196 / $1,596 |
| 4 | | $55 | $220 |
| 4 | | $40 | $160 |
| 4 | | $5 | $20 |
| 1 | | $15 | $15 |
|   |   | Total costs | ~$1,600 / $2,000 |
Attach the cameras to your car roof with suction cup mounts, facing four different directions. Connect them to the car's charging socket using the cables and the car charger plug.
Configure the fastest camera (a Virb XE is faster than a Virb X) to be the master: go to the camera's "WiFi" and select "Multi-Cam".

Configure the rest of the cameras to connect to the master camera: go to "Wi-Fi" and select "Join" and then select the master camera.

Change the WiFi on your phone to the master camera's WiFi.

Once you have connected the cameras, you will see controls for each camera. You will see one new button that is used for setting the direction of the camera.

Set the direction for each camera. Make sure you have a good, unobstructed view for all of them.

Capture as usual while driving.

After capture, you need to go to the Uploads screen to transfer the images from each camera, since each camera will produce its own sequence. After the transfer, you can review and

upload

the images as usual via the app.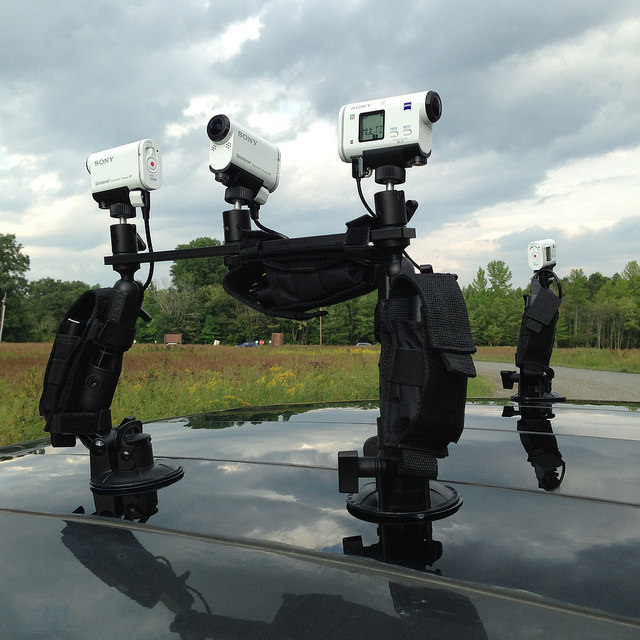 Our friends at Mapbox—specifically Bryan Housel—have successfully used a rig of four Sony action cameras with some accompanying equipment to get really great coverage of e.g. San Francisco. You can read his blog post for more details and background on this setup, but here is an overview of what you need.
| | | | |
| --- | --- | --- | --- |
| Qty | Item | Unit Price | Total |
| 3 | | $299 | $897 |
| 1 | | $418 |  $418 |
| 4 | | $69 | $276 |
| 4 | | $30 | $120 |
| 2 | | $8 | $16 |
| 4 | | $15 | $60 |
| 1 | | $25 | $25 |
| 4 | | $7 | $28 |
|   |   | Total costs | ~$1,840 |
Attach the cameras to the car roof with sturdy suction cup mounts and face them front, back, left, and right. The best placement is high up on your vehicle, aimed as level as possible to the horizon and tilted slightly upwards to avoid including your vehicle in the frame.
When capturing street-level images, more is better. Ideally, you set the cameras to record at 1-second intervals. Make sure you have large enough memory cards in the cameras.
It's good if your suction cup mounts enable you to lift the camera up a bit, as well as attach extra equipment. That is both to get a better view and because the camera's own battery doesn't last long so you need extra power, and power banks can be more convenient than cables that extend to your car charger socket. Use some sort of small waterproof pouch, e.g. a knife sheath, to hold the power bank, and connect it to the camera via a short cable.
You can control the cameras wirelessly with the Live remote view wrist wrap.
When you're done capturing, just copy the images to your computer and upload them to Mapillary.