To access the data on Mapillary through the Mapillary API, there are several different endpoints. The three main APIs are called images, map_features, and image_detections. Each is accessed via its own URL.
Please see our full API documentation to learn more about the different endpoints. In this article, we're looking at how to obtain the credentials you need for accessing the APIs: client IDs and access tokens.
The images API is accessed as https://a.mapillary.com/v3/images and requires only a client ID, and can be accessed by any user to get images from anywhere in the world. This is an open API and the user must make a client ID as a free and open access key.
The other two are closed APIs, map_features for map features and image_detections for object detections. They both require having a client ID as well, but the main difference is that the client ID must be configured to access private data (because the subscription data is private, available to only the subscribing organization), and it must be used in combination with a second key, called the token. So in these cases, for security, two keys are required: a client ID and a token. The client ID needs to be marked as having private access. This will then return any map features or object detections inside a shape the user's organization has a subscription to.
For example, if Bob from CityGov subscribes to data in the city of Madison, Wisconsin, then he must generate a client ID to view public images, whether his, mine, or anybody else's. To access his own privately hosted images, he must generate a client ID with private access enabled. To access his subscription to map features or object detections inside the shape of the city, he must use a client ID with private access enabled, plus generate a token to go with it.
The authorization for this private and subscription data is based on OAuth 2.0, and you can also read about OAuth in Mapillary in our documentation. In this guide, we will replicate the OAuth procedures to retrieve an access token, then start downloading data from the API with authorization.
.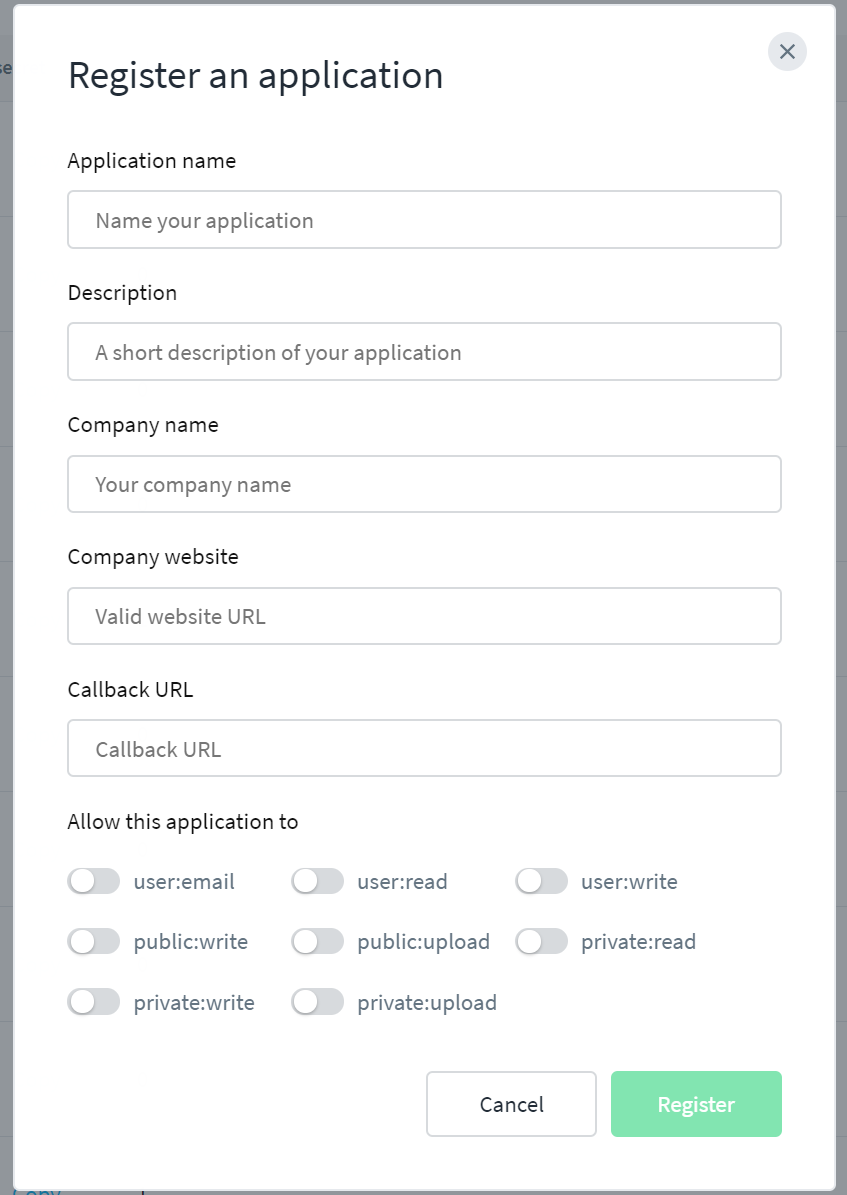 .
Take special note of the Callback URL. This must be a real web address, whether it is your company website, your personal website, or something else. This is important because we are going to use this URL for retrieving your access token.

.
Once your information is all complete, click Register.
Now the client ID will be available on the same page, and you'll see it listed in the table under the application name you chose. Under the Client ID column, click Copy to copy the client ID to the clipboard.
The following URL is going to be our model for retrieving a token, which together with the client ID will allow API access.
https://www.mapillary.com/connect?scope=private:read&client_id=<client_id>&redirect_uri=<callback_url>&state=return&response_type=token
https://www.mapillary.com/connect?scope=private:read&client_id=xyz123&redirect_uri=https://mapillary.com&state=return&response_type=token
.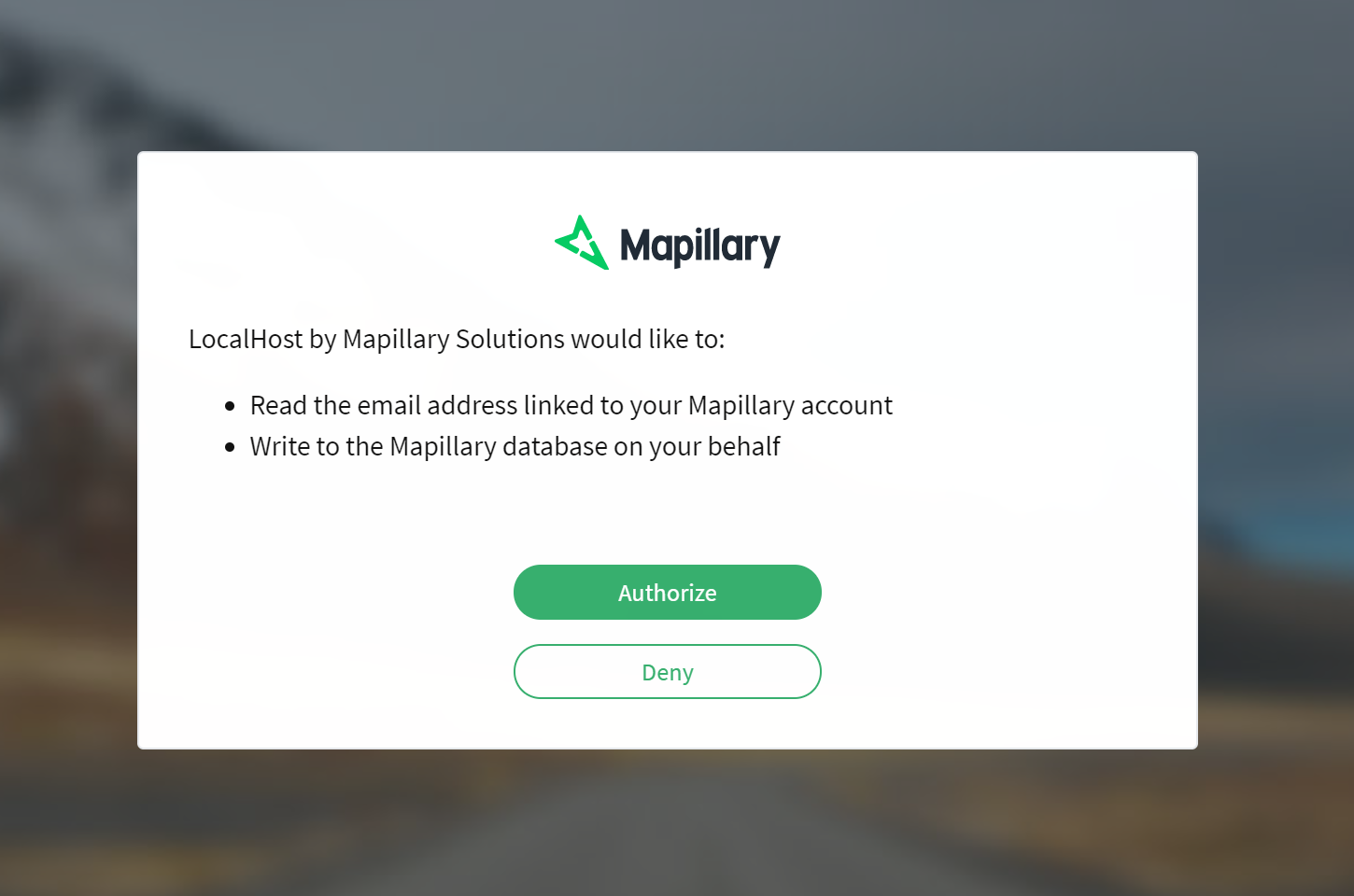 '
.
A Mapillary API call requires that you include a client ID in the API call URL, and that the token is in the header. This means you need to access it via the command line or in a script, such as Javascript or Python.
In Python, you will use the requests module to access the API. An example is:

import requests

client = 'xyz123' # create your client ID at https://mapillary.com/developer
token = 'ey11hhamkHHAD1666'
bbox = '32.53301,0.31393,32.59631,0.37726' # bounding box, use lon1,lat1,lon2,lat2 in format of [lower left, upper right] AKA [southwest, northeast]

# omit the bbox if you want to retrieve all data your account can access, it will automatically limit to your subscription area
url = 'https://a.mapillary.com/v3/image_detections?layers=segmentations&bbox={}&client_id={}&per_page=1000'.format(bbox,client)
headers= { "Authorization" : "Bearer {}".format(token) }
response = requests.get(url, headers=header)
data = response.json()
print(data)

const client = 'xyz123'; // create your client ID at https://mapillary.com/developer
const token = 'ey11hhamkHHAD1666';
var bbox = '32.53301,0.31393,32.59631,0.37726'; // bounding box, use lon1,lat1,lon2,lat2 in format of [lower left, upper right] AKA [southwest, northeast]
var api_url = 'https://a.mapillary.com/v3/image_detections?layers=segmentations&bbox=' + bbox + '&client_id=' + client + '&per_page=1000';

const response = await fetch(api_url, 
 { headers: 
 {'Authorization' : 'Bearer ' + token} 
 }
);
const myJson = await response.json();
console.log(JSON.stringify(myJson));