The Time Travel function lets you compare images taken at different times. This is useful for observing how places change due to, for example, construction work, wear and tear of infrastructure, or even seasonal change.
To access the Time Travel function, click on the little clock icon at the bottom right of the viewer. For Time Travel to be available, two conditions need to be fulfilled:

The images are sufficiently close to each other (within 12 meters)*.

There is no more than a 22.5° difference in the viewing direction (compass angle)*.

* Based on reconstructed positions and compass angles; see the notes below.
You will see a preview of the same place at other times—select one to enter the comparison view where you can use the slider for a smooth transition between the images. If the clock icon is faded then no alternative images of this spot are available (if you're looking for a great example then try this one).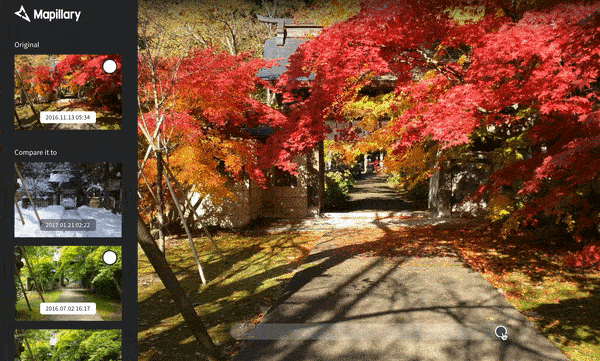 The Time Travel viewer has a unique URL so you will be able to share it easily. It's also possible to embed the view using the MapillaryJS library. (MapillaryJS offers extended functionality for comparing images, allowing you to build compare views even of images that don't have position and compass angle matches, as well as to customize the viewer itself.)
Some notes on the position and compass angle matching. First, Time Travel matches are not based on detecting any objects in the image. That explains why sometimes it may seem obvious to you that two images have been taken of the same place but there is no Time Travel available.
Second, we use recalculated positional data for matching. We use a technology called Structure from Motion (SfM) to improve camera positions. By triangulating the information contained in several images around a place, we can determine the structure of the 3D scene and estimate the camera positions according to that structure. This improves the relative positioning between the cameras used to capture the images, compared to the often rough or slightly off positions reported by e.g. your phone's GPS. The position and compass angle values used for the Time Travel matches are related to the positions after the SfM calculations.
As new images get added in an area, we use the new information and recalculate these corrected positions, and they should get closer to reality with every piece of information added. This recalculation also explains why sometimes, a Time Travel match can suddenly appear or disappear between images that have both existed for a while. It depends on the third, fourth, and x-th image uploaded from the area.