What is a sequence?
A sequence refers to a series of images captured and then uploaded to Mapillary based on the time and place of capture. The maximum size of a sequence is 500 images. When you upload images you captured, the uploader will automatically split the images into sequences, based on images captured at the same time.
When you explore images on Mapillary's web or mobile apps, we use sequences to structure the viewing experience. Each image, in addition to a unique image key, has a sequence key that links it together with other images in the same sequence.
We prefer sequences instead of single images because we are building a 3D reconstruction of the world with our computer vision technology, and to that end, it is important to have lots of overlapping images of the same place. This is exactly what you achieve with capturing images in sequences. If you capture just one image and upload, it will be a sequence by itself. If you capture 1000 images in one capture session, the uploader will split it into two sequences.
Regardless of the images being grouped into sequences, they are still all interconnected on Mapillary. You are able to navigate around both within and between sequences by using the sequence arrows at the top or the spatial arrows overlaid on the image, respectively.
Imagery Layers and color codes on the Mapillary Web App
Mapillary Coverage (Green): Uploaded and processed sequences are shown in green color on the Mapillary Web App.

Your coverage (Blue): Your own uploaded and processed sequences Mapillary coverage are shown in blue color on the Mapillary Web App.

Selected sequence (Turquoise): A selected sequence is shown in turquoise color on the Mapillary Web App.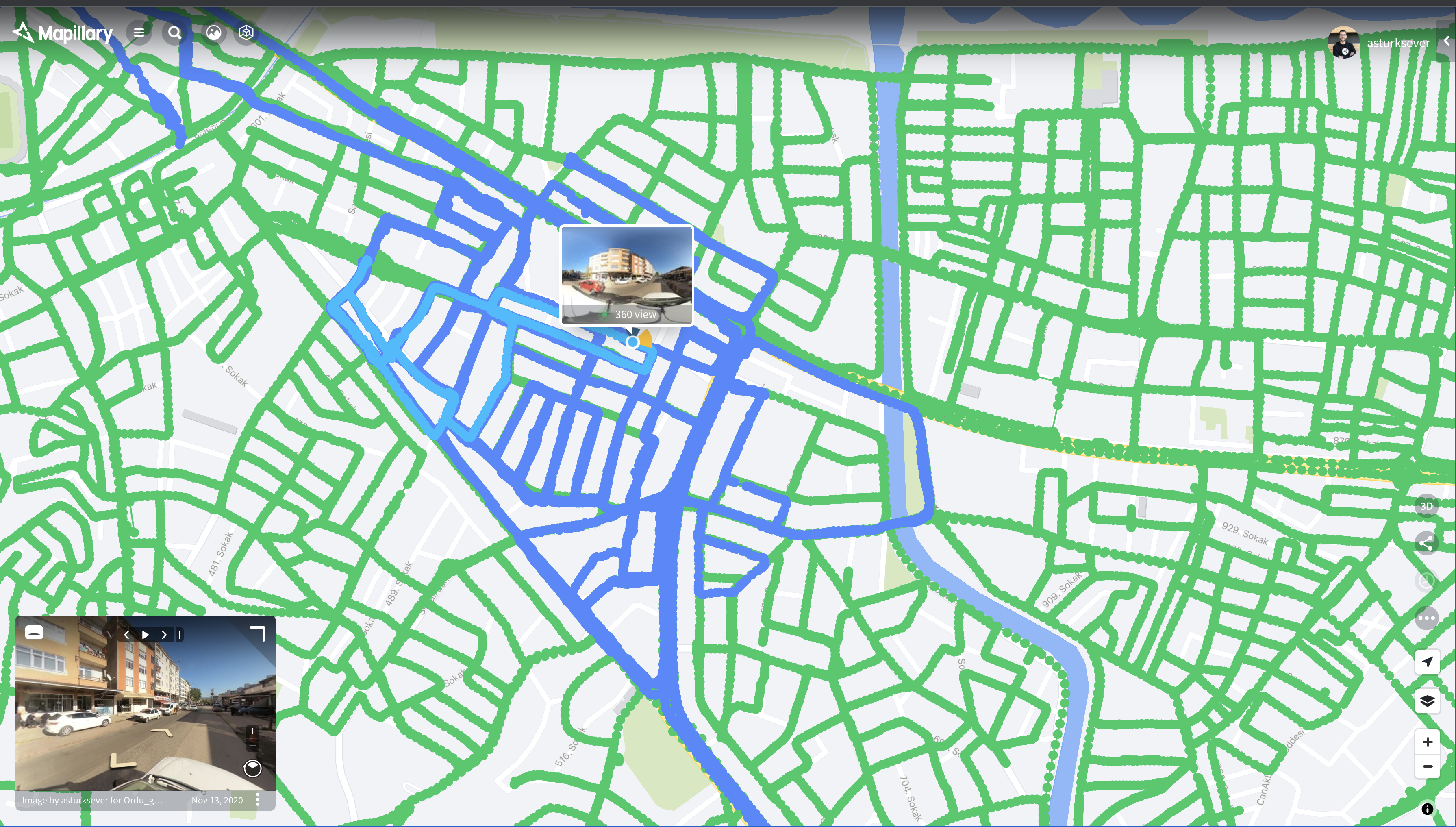 Partially Processed Sequence:

Partially processed sequences are shown in light blue color with white dots on Mapillary Web App. If the sequence is in this state, previewing your imagery is possible, however processing is not completed yet and the sequence will not be part of Mapillary map coverage tiles. You can step through the sequence in time, but spatial navigation and image transitions are not available yet.