The Mapillary web app offers the most versatile viewing experience on Mapillary together with a number of additional features that Mapillary offers. This article gives an overview of the map and image view, image navigation, and the available options for images.
When you open the app, you will see the world map with some green areas and red dots. The green lines represent the location of Mapillary sequences—series of images that you may navigate through. When you zoom in by scrolling your mouse, the lines transform into points, and each point represents an image.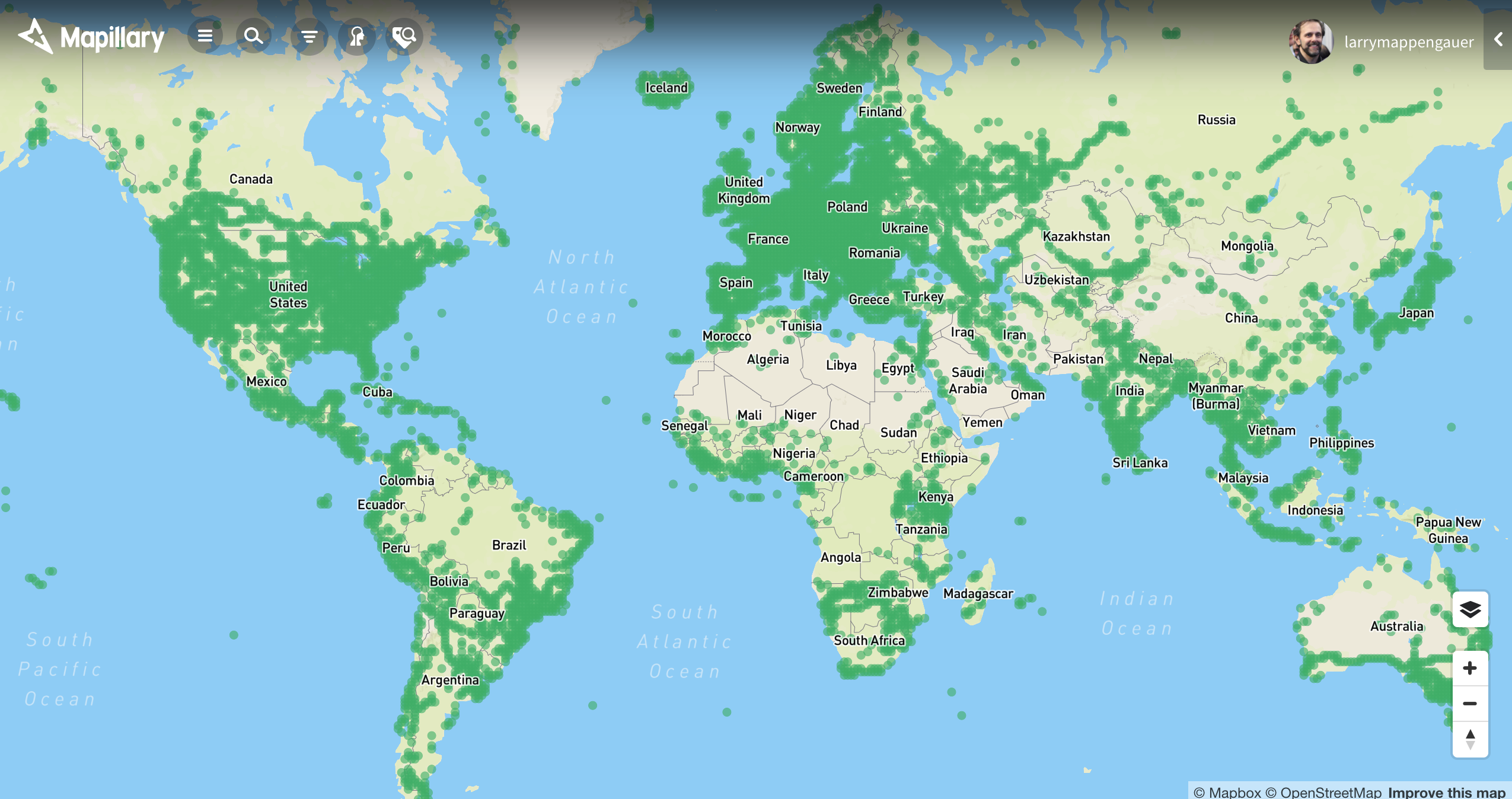 Clicking on the sequence or point on the map, you will see the associated image load in the Mapillary viewer window. The map will now display a directional icon, indicating which way the camera is facing. Some images are regular images, while others are full 360-degree images. The 360° images are marked with a circle around the green dot on the map. If you wish, you can filter the map to show only 360° captures.
You can enlarge an image by clicking on the arrow at its top right corner (now the map is displayed smaller). You can use your mouse to scroll and zoom the image (up to the finest level of detail that the original image resolution allows) or to drag and pan the image around. The images that are not full 360-degree views have a black background outside the camera's field of vision.
Mapillary images can be displayed on different maps. You can use the layer icon at the right-hand side of the map view to choose the base map that you wish to see. The image in the Mapillary viewer also displays an attribution to the user who captured it, as well as the capturing time.
On the image, you will notice two sets of arrows: one for sequence navigation (at the top), and one spatial navigation (at the bottom). The sequence arrows will let you navigate and autoplay the specific image sequence that the image belongs to, while the spatial arrows let you view the surrounding images in the space, regardless of which sequence they belong to.
The navigation arrows also have keyboard shortcuts. These shortcuts only work on the condition that the respective sequence or spatial move is available, as indicated by the displayed arrows (which in turn depends on which imagery exists in the area).
The following shortcuts apply to all images:
Left/right arrow: step left/right in space

Up/down arrow: step forward/back in space

Alt + up/down arrow: step to next/previous image in sequence
There are additional shortcuts for perspective (i.e. non-panorama) images:
Shift + left/right arrow: turn left/right

Shift + down arrow: turn around (180 degrees)
Shift + up arrow: go to nearby panorama image
You will notice some icons lining the app. Use the ones at the top left to search for locations, apply filters, and use features like tagging and object detections. The icons at the right-hand side are for commenting, sharing the image (via social media, URL, and embed codes), Time Travel (if available), and image options (under the three dots (...) icon) like: